WP Ultimate PDF Generator v1.0.5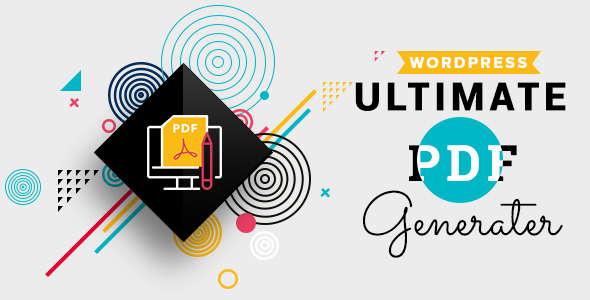 WP Ultimate PDF Generator extension is a PDF generator for WordPress which is responsible for converting all posts, pages, and products to PDF.
Are you in a search of PDF generating extension ?
Blog readers can export post into pdf and can print or send it to the registered email address.
WP Ultimate PDF Generator extension allows converting the post, pages, and products in PDF.
Key Features
Default Templates
In this new version we added 3 default templates for Post and Products.
Custom post types
It supports custom post types and print them in PDF.
Custom meta fields
It supports custom meta fields and print them in PDF.
Custom fonts
Feature to set Custom fonts for PDF.
Header
You can include header logo to pdf, Option to show site name, site description and site url.
WaterMark
Add watermark text and images to look PDF wonderful.
Different Font
Can customize fonts of header and content.
Featured Image
Can select to display featured Images.
PDF from Cache
Have ability to generate pdf from cache to reduce load from server and can schedule backup of cache if Your blog is not updating too frequently and many more options
Custom CSS
Can add custom style to post contents, mostly all css supported.
Email Mode
In email mode each pdf export link generate a popup window and visitor have to enter an email address to which the created PDF will be sent.
Cache supporting
It provides the functionality to deliver the cached PDF to decrease server memory usage if cache is availabe in the system.
ACF compatible
It is compatible with Advanced custom fields and supports all its meta fields.
Minimum Requirements
WordPress 4.0 or greater.
WooCommerce 2.6.0 or greater.
PHP version 5.5.6 or greater.
MySQL version 5.0 or greater.
Translation Ready
.po and .mo files included, for easy translation
Tags :
featured
top